Latest Announcements
REGISTER HERE FOR THE UPCOMING MARCH 7-8TH LOCAL ROADS MATTER ADVOCACY DAY!
Thank you to all the participants and sponsors of our
87th Annual Conference!
.
LOCAL ROADS MATTER
This year, the Assembly Minority Conference helped us fight to support critical local infrastructure repairs and improvements through programs like CHIPS, PAVE NY and BRIDGE NY. An investment in our local infrastructure is an investment in economic growth, job creation, property tax relief and safety.
Watch their video to learn why Local Roads Matter
.T
Congratulations to Cornell Local Roads Program
NYSAOTSOH would like to congratulate the Cornell Local Roads Program for a very successful 2016 Highway School. The association kicked off their first scholarship opportunity at the highway school to with a chance enter into raffle for a 2016 Annual Conference, Education Symposium and EXPO Full Registration Package. Two scholarships were awarded on the last day of highway school.
Lucky Recipients:
Randy Brown
Town of Savannah
Wayne County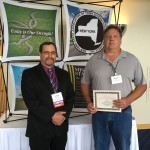 Tom Fleig
Town of Richmond
Ontario County
We look forward to seeing you at the upcoming 2016 Annual Conference, Education Symposium and EXPO, September 13-16, 2016 at the Crowne Plaza, Lake Placid, NY.
Congratulations: Orangetown Highway Department
On receiving the APWA 2016 Excellence in Snow and Ice Control Award
.
Now Available in the Members Section!
2016 Winter Newsletter
2016- 2017 CHIPS and PAVE-NY Run
OGS – 2015-2016 Road and Treated Salt Filed Requirement
Letter to the Governor
The New York State Association of Town Superintendents of Highways joined with the New York State County Highway Superintendents Association (NYSCHSA) to urge Governor Cuomo to ensure that New York's system of local roads and bridges are properly funded in this year's budget. Maintaining a safe, functional transportation system is critical to ensuring a strong and prosperous state.
.
Update
In 2013, the Association has updated their 2007, 20 Year Needs Assessment of Local Highway and Bridge Infrastructure.
Local system pavement need over the next 15 year period is estimated at $31.95 billion. Local system bridge need over the upcoming 15 year period is $2.85 billion. Given that 46% of the vehicle miles travelled in New York are on local roads, then local governments should be receiving an additional $1.3 billion annually.