Latest Announcements
Save the Date!
Online registration is now available in the Members Only Area!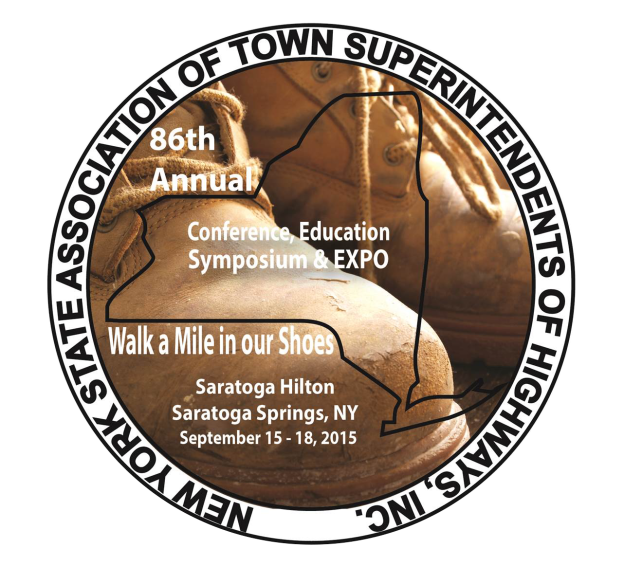 This year, our annual conference will be held at the Hilton in Saratoga Springs, New York, September 15th- 18th. This years theme, "Walk a Mile in Our Shoes" focuses on the ever-changing challenges faced by our Highway Superintendents. As the seasons change, so do the tasks at hand. This year's educational sessions will concentrate on the many hats we wear and the diverse tasks we face on a day-to-day basis.
Vendors, be sure to check out our 2015 Sponsorship Package. 
CONGRATULATIONS!!!
NYSAOTSOH would like to recognize two associations for reaching landmark anniversaries:
Westchester / Putnam County Association of Town Superintendents of Highways, INC. for celebrating their 75th Anniversary.
Washington County Association of Town Superintendents of Highways for
 celebrating their 60th Anniversary.
Your members have worked tirelessly for decades, bringing outstanding
service to the people of your counties. We wish you many more years of
success!
2015- 2016 CHIPS and Extreme Winter Recovery Run
OGS – 2015-2016 Road and Treated Salt Filed Requirement
Letter to the Governor
The New York State Association of Town Superintendents of Highways joined with the New York State County Highway Superintendents Association (NYSCHSA) to urge Governor Cuomo to ensure that New York's system of local roads and bridges are properly funded in this year's budget. Maintaining a safe, functional transportation system is critical to ensuring a strong and prosperous state.
The Association has updated their 2007, 20 Year Needs Assessment of Local Highway and Bridge Infrastructure.
Local system pavement need over the next 15 year period is estimated at $31.95 billion. Local system bridge need over the upcoming 15 year period is $2.85 billion. Given that 46% of the vehicle miles travelled in New York are on local roads, then local governments should be receiving an additional $1.3 billion annually.