Latest Announcements
Thank you to those who participated in our  88th Annual Conference, Education Symposium & EXPO  held September 19-22, 2017 at the Holiday Valley Resort in Ellicottville, NY!
The 2017-18 NYS budget has been adopted and thanks to the advocacy efforts of our members,  NYSCHSA and the support of the NYS Legislature we received a significant funding increase for our local transportation system!
The Enacted Budget includes $50M additional for BRIDGE-NY ($20M for culverts and the minimum project threshold will be reduced to $50,000 from $100,000). Also included is an additional $65M in Extreme Winter Recovery Funding (EWRF) which, as we requested, will be distributed through the traditional CHIPS formula.
SFY 17-18 Enacted
CHIPS            $438.1M
EWRF             $65M
Marchiselli      $39.7M
PAVE-NY         $100M
BRIDGE- NY    $150M
Total              $792.8M
These critical funding increases would not have been possible without everyone's participation at advocacy day and the continued support of our state legislators! Please take the opportunity to reach out to your Senator and Assemblymember to thank them for their efforts!!!
Adopted NYSAOTSOH Social Media Guidelines
Congratulations to Cornell Local Roads Program
NYSAOTSOH would like to congratulate the Cornell Local Roads Program for a very successful 2017 Highway School. The association kicked off their 2nd annual scholarship opportunity at the highway school to with a chance enter into raffle for a 2017 Annual Conference, Education Symposium and EXPO Full Registration Package. Two scholarships were awarded on the last day of highway school.
Lucky Recipients: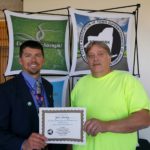 Jack Shawley
Town of Danby, Tompkins County
Gerald Seymour
Town of Sanford, Broome County
We look forward to seeing you at the upcoming 2017 Annual Conference, Education Symposium and EXPO, September 19-22, 2017 at Holiday Valley, Ellicottville, NY.  Register Today – 518-426-1023 or log or go to Members Only section.
Congratulations: Orangetown Highway Department
On receiving the APWA 2016 Excellence in Snow and Ice Control Award
Now Available in the Members Section!
2017 Annual Conference Sponsorship Guide
2017-2018 CHIPS Runs
Update
In 2013, the Association has updated their 2007, 20 Year Needs Assessment of Local Highway and Bridge Infrastructure.
Local system pavement need over the next 15 year period is estimated at $31.95 billion. Local system bridge need over the upcoming 15 year period is $2.85 billion. Given that 46% of the vehicle miles travelled in New York are on local roads, then local governments should be receiving an additional $1.3 billion annually.